Roca Targa Kitchen sinks mixer with retractable swivel spout and rinses spray function – Roca Targa is a collection of taps for the kitchen that impresses with its ease of use. Form and function come together all in one to make way for the creation of what may be the hand tap more ergonomic and easy to handle the market.
Research and innovation Roca provide a wide range of curved pieces that include the latest technology in saving water, fashion design and designed to provide maximum comfort features. New features that provide new experiences in the bathroom.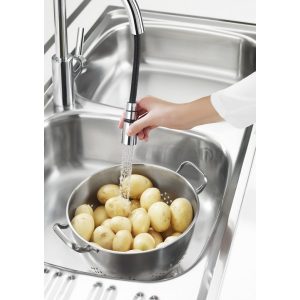 A new concept to grasp control of the faucet born thanks to the innovative control system taps that integrates seamlessly with the rest of the mixer body. A solution was aesthetically perfect. Functionally the faucet is equipped with the best SoftTurn and Evershine performance.
Getting the highest levels of smoothness and ease of operation of the handle of the faucet and accuracy in the selection of flow and temperature required. The development of exclusive SofTurn technology has only been possible when Roca one of the few manufacturers of taps that designs, develops and manufactures its own cartridges.
Made of stainless steel and chrome, the most appropriate materials for the installation of faucet in the kitchen. It combines the advantages of an extremely hygienic material with a modern aesthetic and dynamic. A charm that is accentuated with the esbeltico structural design and clear mind.